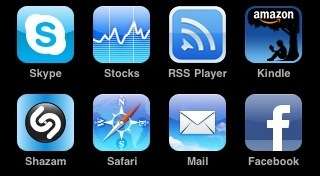 Economics Apps for iPhone and iPad
Last year we published a list of "The Best Economics Android Apps", with the intention to follow it up with a post about economics apps for iOS devices later. As promised, here is the list of the apps for economists, who prefer to use Apple products, and which could be useful for both students and professionals in economics.
If you know and use other apps, which we haven't featured here, please let us know in the comments and we will be happy to add them!
1) If you want to track international news in your phone, all major media, including The Economist, Bloomberg Businessweek and The Wall Street Journal, have apps available for subscription.
2) A large number of free lectures and events from top universities, which you can simply download on your iPhone, are available in iTunes. For example, LSE Public Lectures and events or Principles of Microeconomics by MIT. If you are generally interested in more free economics podcasts, have a look at our previous post.
3) EconGrapher: Solve, Graph, and Touch Economics is an interesting tool with which you can make good-looking custom economics graphs and interact with economics models. There is also a version of the app specifically designed for academic professionals. Another interesting app for creating graphs is OmniGraphSketcher (available both in English and Japanese), which allows you to create freehand sketches and turns it into proper graphs.
4) Mathematics with PocketCAS pro could be a great help with any mathematical calculations that you'd need to make by automating algebraic formulas. It also enables users to create 2D and 3D graphs.
5) EconBiz is a "search portal for business and economics", which offers access to hundreds of thousands books, journal articles and working papers. This app was initially financed by German research foundation and many articles are available in German only.
6) A2ZEconomy is an iPhone version of Android Indicators Online. It provides up-to-date US business and economic indicators from an array of government sources.
7) If you are just starting with economics, the Economics AP is a useful app to review materials and prepare better for the exams in Macroeconomics and Microeconomics. Alternatively you might like to have a look at the EconClassroom or Study Econ.
8) And if you are just bored in the subway on the way home, you can have a look at Economist QuickQuotes with more than 700 quotes from renowned economists or play an Economics Trivia Quiz.
Some of these Apps were already featured on the New York Times blog Economix by Casey B. Mulligan, an economics professor at the University of Chicago. In his article he also wrote about several useful apps to read papers and unpublished materials, which could be especially useful for academics.
Photo Credit: Jim Younkin
Also Interesting

A Post-PhD Career in Research: Jack of all Trades, Master of Some

Our favorite caricature of a post-doctoral researcher: a frail man (or woman) with unkempt hair, hunched in front of a computer screen, with a half-filled cup of coffee by his side. As the coffee gets colder and time flies by, he appears oblivious to his surroundings – he is happy spending long hours at his desk conceptualizing arcane theory on obscure topics the real world does not care about. He is in a state of eternal tapasya – meditating on his eternal love-affair with knowledge… because, life is an eternal quest for knowledge!

Additional Courses to Improve Your Prospects in a Career in Economics

If you're doing an economics degree and thinking about ways to maximise your career prospects once you graduate, there are lots of courses outside the realm of economics for you to choose from. From business to programming to statistics, there are plenty of areas which can help you improve your chances of getting a job and widen your skillset more generally, if you've got the money and time to enrol on one.

Career Advice, Study Advice

Top YouTube Channels to Learn Econometrics and Economics

Despite the easing of Corona-induced restrictions in certain places around the world, many universities and centers of learning remain shut, and will likely stay so for some time. For the foreseeable future then online learning will fill the void and become the default means of study. Yes, these are strange times. If you aren't already incredibly familiar with Zoom/Whereby/Skype we advise you to download them all now!