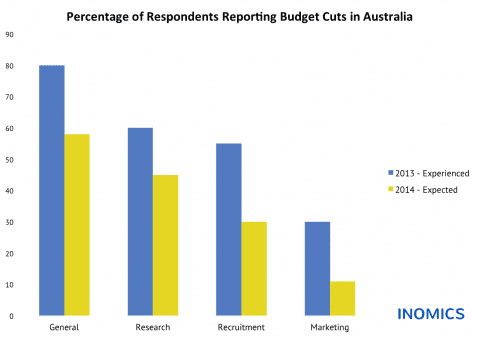 Budget Cuts in Australia: Experienced and Expected Changes in Academic Institutions
Last year, we conducted a global survey of nearly 800 academics, asking questions about budget cuts at their respective institutions for fiscal year 2013, and their expectations for 2014. We wanted to get a sense of the climate around the world in terms of who is still being affected by the economic downturn, and to what extent, in order to better grasp the daily reality for both employers and job seekers.
In this post we're examining the responses from researchers and other academic professionals working in Australia. Of those who took part in our survey, 60% work in universities, 15% in private companies or consultancies, 10% in the government, 5% in banks and the remaining 5% in think tanks.
The breakdown of experienced and expected budget cuts in Australia is quite interesting, as the differences between reported budget cuts in general versus specific departments is large, while the percentage of respondents expecting cuts in 2014 lessons across the board. This trend indicates a positive outlook in the Australian market, though it is possible that cuts in universities are more common in private companies and government, making the data somewhat inconclusive.
The very small percentage of respondents anticipating cuts in their 2014 marketing budgets is great news for marketing departments in both education and the private sector. The numbers in Australia reflect the global trend, though the percentage of respondents expecting marketing budgets cuts is amongst the lowest worldwide.
Also Interesting

Tips for a Successful PhD Application

Whether you are applying to a structured program like those typically found in the United States, an independent research PhD like those in much of Europe and elsewhere, or a hybrid of the two, the first step is to gather your thoughts (and paperwork) in an effort to convince the admissions board that you are the most qualified and motivated candidate for the position. Regardless of location or discipline, your application will almost certainly include a personal statement, transcripts, copies of your previous degrees and letters of recommendation.

Best Countries in Europe to Do Your Economics Master's Degree

Looking for a great Master's program in Economics?

Home Office and Uncertainty

COVID-19: The Economists' Experience

That the world of work has radically changed we know, we see it before our eyes: kitchens have replaced offices; pyjamas, suits; and housemates often now fill the space previously occupied by colleagues. But how have these changes - and others - been felt by economists around the world? Through a textual analysis undertaken in the INOMICS Salary Survey, we answer that question and, in doing so, paint an anecdotal picture of economists' COVID experience.