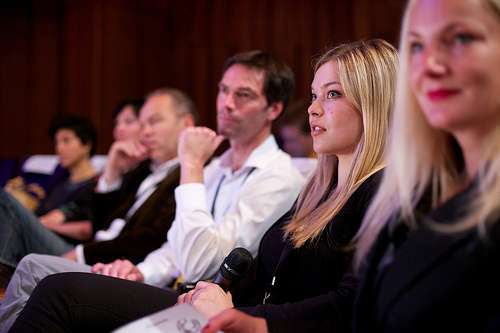 Conference Round Up – Events in Early 2015
With the end of the year approaching, we feel it's time to look to the start of next year and start planning which conferences to attend. The number of events available is overwhelming, so following up on our 2014 End of Year Round Up, we decided to draft a list for the start of 2015.

In the list below you will find a range of conferences due to take place between January and March 2015. In the past we've also provided you with tips on how to choose the right conference for you and what to wear once you're there. Furthermore, if you don't see the perfect event for you in the list below, you can head to INOMICS and do a targeted search to find exactly what you're looking for.
JANUARY
2015 International Business Conference in Maui
Jan 4, 2015 to Jan 8, 2015
Maui, United States
Jan 8, 2015 to Jan 11, 2015
Wellington, New Zealand
Third Lisbon Research Workshop on Economics, Statistics and Econometrics of Education
Jan 23, 2015 to Jan 24, 2015
Lisbon, Portugal
AlpPop The Alpine Population Conference
Jan 25, 2015 to Jan 28, 2015
Milano, Italy
Global Sustainability Institute Research Conference 2015: The Interface between Sustainability Research and Policy
Jan 26, 2015 to Jan 27, 2015
Cambridge, United Kingdom
The 5th Annual Conference of Economic Forum of Entrepreneurship & International Business
Jan 29, 2015 to Jan 30, 2015
Boston, United States
Macroprudential regulation: from theory to implementation
Jan 29, 2015 to Jan 30, 2015
Amsterdam, Netherlands
International Workshop P2P Financial Systems 2015: Opportunities, Risks, Market Dynamics, Regulation
Jan 29, 2015 to Jan 30, 2015
Frankfurt am Main, Germany
FEBRUARY
4th Research Forum on Small and Medium-Sized Enterprises (SMEs) – New perspectives and opportunities for SMEs
Feb 9, 2015 to Feb 10, 2015
Chur, Switzerland
Feb 12, 2015 to Feb 13, 2015
Melbourne, Australia
Young Swiss Economists Meeting 2015
Feb 13, 2015 to Feb 14, 2015
Zurich, Switzerland
1st PhD Workshop on the Economics of Migration
Feb 17, 2015 to Feb 18, 2015
Southampton, United Kingdom
International Annual Conference on Leveraging I.T for Digital Age in Developing Economies
Feb 19, 2015 to Feb 20, 2015
San Diego, United States
Feb 24, 2015
London, United Kingdom
IECER 2015 – 13th Interdisciplinary European Conference on Entrepreneurial Research
Feb 25, 2015 to Feb 27, 2015
Montpellier, France
ADRES 2015 – Annual Doctoral Conference of the Association for the Development of Research in Economics and Statistics
Feb 27, 2015 to Feb 28, 2015
Paris, France
MARCH
Progressive Economy Academic Conference – Call for Papers
Mar 4, 2015 to Mar 5, 2015
Brussels, Belgium
Call for Papers: 79th International Atlantic Economic Society
Mar 11, 2015 to Mar 15, 2015
Milan, Italy
Mar 13, 2015
London, United Kingdom
American University in Cairo Annual Research Conference: MENA Region and Post 2015 Development Agenda
Mar 16, 2015 to Mar 18, 2015
Cairo, Egypt
4th PhD Student Conference in International Macroeconomics and Financial Econometrics
Mar 18, 2015
Nanterre, France
23rd Annual Symposium: Society for Nonlinear Dynamics & Econometrics (SNDE)
Mar 19, 2015 to Mar 20, 2015
Oslo, Norway
Annual World Bank Conference on Land and Poverty 2015
Mar 23, 2015 to Mar 26, 2015
Washington DC, United States
International Interdisciplinary Business-Economics Advancement Conference (IIBA 2015)
Mar 28, 2015 to Apr 2, 2015
Sarasota, United States
To browse even more conferences around the world, head to INOMICS now.
Photo credit: Sebastiaan ter Burg
Also Interesting

Applying for a Conference

How to Write a Successful Motivation Letter for Economics Conferences

When you apply to present at an economics conference, you'll often be asked to provide a letter of motivation along with your abstract and CV. This is used to decide which applicants will be invited to give a talk or poster presentation at the conference. But what information should this letter of motivation contain, and what's the best way to increase your chances of being accepted to present?

Best practices for every stage in the job recruitment process during Covid-19

Here we've compiled a list of tips and solutions to help make your recruitment plans more befitting. Job Advertising: Communication is key! Being as clear as possible in the job description in terms of the role, expectations and tasks to be performed, will help build a good rapport and trust with job applicants. Include flexible working hours, childcare, health insurance and the possibility to work remotely to incentivize applicants.

The Lives and Livelihoods Fund

Four years ago, the world adopted an ambitious set of Sustainable Development Goals (SDGs) designed 'to end poverty, protect the planet and ensure that all people enjoy peace and prosperity by 2030'. Despite rising life expectancy and the eradication of many endemic diseases, more than 400 million people in the member states of the Islamic Development Bank (IsDB) still live in absolute poverty, subsisting on less than US$1.90 per day. It is, perhaps, these countries that face the greatest challenges in fulfilling the SDGs.