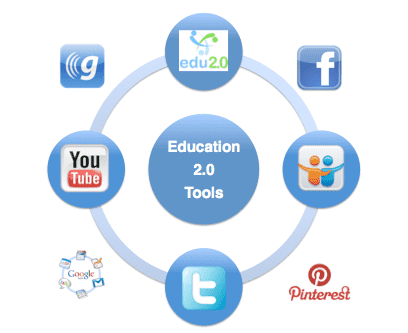 Education 2.0: Teaching Economics Using Digital Tools
Read a summary or generate practice questions based on this article with the new INOMICS AI toolhere.
Considering the remarkable technological progress and the spread of social media in the last few years, it can be challenging to teach and involve students when using an old-fashioned lecture style. Shelving overhead projectors and boring PowerPoint slides, some professors have converted to "education 2.0", integrating new tools and applications into their class format.
The Ecuadorian Journalist Albertina Navas wrote about her experience of teaching economics to non-economics students at the University of the Americas – UDLA (Quito) in the article La economía se hace más divertida con herramientas 2.0 (Economics gets more funny with 2.0 tools) posted on the blog Clases de Periodismo, a virtual school for journalist students from Latin America. To help familiarize her students with complicated economics definitions and formulas and to achieve active learning, she used digital tools such as Twitter, blogs, Pinterest, podcasts, YouTube, Google Docs, and goear, a service to stream and upload MP3s. Leaving space for creativity, students gave proof of enjoying the class and produced some interesting outcomes, like the video El rap de la inflación (The Inflation Rap) about history of economics thought.
Dr. Buensuceso from Miriam College (Philippines) also shared his experience and findings in a brilliant presentation about teaching economics using Facebook. Facebook allowed him to create a digital space interlinked with blogs, news, relevant Twitter accounts, studies and lectures available online. Dr. Buensuceso has also been successful at integrating other platforms like YouTube, Slideshare, and edu2.0. The active use of Internet technology has led to positive outcomes: on average students performed and communicated better, there were fewer failures, and absences in class could not be used as an excuse anymore. Thus, to engage students Dr. Buensuceso recommends a blended learning method where face-to-face teaching is integrated with e-Learning and a share culture is promoted.
Similar results about the use of the latest in technology and social interaction in teaching economics are mentioned in Twitternomics: Using Tweets to Teach. Professors Cochran and Velikova explain how "instructors of economics who use Twitter will be able to increase student interest in the subject, satisfaction with the course, and comprehension of learning objectives by being able to connect with students on an intellectual as well as emotional level both inside and outside of the classroom." The authors state that Twitter is a great tool to encourage immediate feedback and motivate students to engage with academics and economists by following them and interacting with them.
In spite of increasing communication, collaboration, and student curiosity, some challenges in teaching using digital tools have to be kept in mind. Internet access, connection speed, time commitment and situations requiring a help desk are some of the cases pointed out in Twitternomics.
However, if after reading this post you are thinking about updating your class format and introducing some 2.0 tools, have a look at the article 20 Schools Innovating with Digital Tools posted by Tom Vander Ark on theEducation Week blog. Here he presents the results from a Twitter survey, which highlighted several examples of U.S. schools that use digital tools in an interesting way for communication, marketing, or learning.
About the author: Chiara Polacchini has studied at five different universities in four countries and combined international working experience with her degrees in Foreign Languages and Cultures for Business and Intercultural Business Communications. She is particularly interested in new technologies and their application to higher education. She currently lives and works in Berlin continuing to update her private blog.
Also Interesting

How To Find The Right Exchange Program

Exchange programs allow students to study at a different institution as part of their degree. Typically, students will use this opportunity to study abroad at a foreign partner of their home institution, though exchange programs can sometimes take place in the same country. Regardless, these programs are a fantastic way for students to broaden their horizons, take specific courses at another institution, and study abroad without committing to living multiple years in another country.

Which Concentration Should You Choose For Your Master's Degree in Economics?

If you're planning to study economics at a Master's level, then you may have the opportunity to pursue a concentration, sometimes also referred to as a major. While rarer, some PhD programs may also offer concentrations, though many are already specialized degrees (or require you to have your own research agenda).

The GRE is changing: ETS to streamline the test in September 2023

The Graduate Record Examinations, more commonly known as the GRE, is one of the most important standardized tests in the world for admission to post-Baccalaureate programs. It's very often required by universities when considering admission into their Master's or even PhD programs.