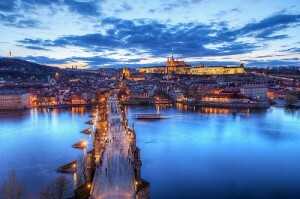 INOMICS at the 26th Annual EAIE Conference
This Saturday, the INOMICS Team will pack the car and head to Prague to take part in the 26th Annual European Association for International Education (EAIE) Conferencebetween September 16th and 19th at the Prague Congress Centre. This year's conference theme, 'Stepping into a new era' is well suited to INOMICS' current expansion as a multi-disciplinary, crosscutting platform hosting thousands of academic and career opportunities for students, academics and professionals.
With four days packed full of workshops, poster sessions, receptions and exhibitions, INOMICS is proud to take part in this international event linking education professionals from diverse fields. Jan Muehlfeit, Chairman Europe of the Microsoft Corporation and graduate of executive development programs at the University of Pennsylvania, London School of Economics and Harvard, will speak at the Opening Plenary on September 17th.
Throughout the conference INOMICS will maintain a booth (Number 235) and team members will be on hand to discuss our many collaborations with institutions around the globe. If you happen to be at the conference, please feel free to stop by, say hello and build a partnership with INOMICS!
Image credit: Miroslav Petrasko