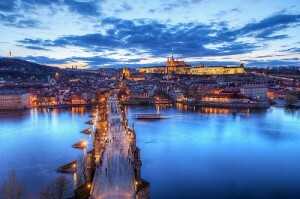 INOMICS at the 26th Annual EAIE Conference
This Saturday, the INOMICS Team will pack the car and head to Prague to take part in the 26th Annual European Association for International Education (EAIE) Conferencebetween September 16th and 19th at the Prague Congress Centre. This year's conference theme, 'Stepping into a new era' is well suited to INOMICS' current expansion as a multi-disciplinary, crosscutting platform hosting thousands of academic and career opportunities for students, academics and professionals.
With four days packed full of workshops, poster sessions, receptions and exhibitions, INOMICS is proud to take part in this international event linking education professionals from diverse fields. Jan Muehlfeit, Chairman Europe of the Microsoft Corporation and graduate of executive development programs at the University of Pennsylvania, London School of Economics and Harvard, will speak at the Opening Plenary on September 17th.
Throughout the conference INOMICS will maintain a booth (Number 235) and team members will be on hand to discuss our many collaborations with institutions around the globe. If you happen to be at the conference, please feel free to stop by, say hello and build a partnership with INOMICS!
Image credit: Miroslav Petrasko
Also Interesting

Sample Motivation Letter For Your Economics PhD Application

When you apply for a PhD, you will need to write not just a research proposal but also a letter of motivation. This letter describes why you wish to undertake a PhD and why you would be well-suited to researching your proposed topic. But what needs to go in this letter, and what tone is appropriate for it? To give you some ideas, today INOMICS is sharing a sample letter of motivation, as well as offering advice on how to write our own, so you can maximise your chances of getting accepted.

Jobs for Economists in the Government: The Right Career to Consider?

When discussing jobs in the government, the type of work that comes to mind is most likely influenced by your particular background. In countries in which large segments of the economy are nationalized, it's possible to become a civil servant in nearly any field. In other places, your options might be more limited. Regardless of where you're from, or where you'd like to work, however, every government employs economists, and it's easy to argue that they're needed now more than ever - though in the weird times of the pandemic, finding a government job may be more complicated.

Why you should be using a multi-channel marketing approach

Multi-channel marketing campaigns allow institutions to increase conversion rates by interacting with potential candidates (students, professors and researchers) at different stages of their decision process, using the best channel for that stage. For example, a candidate who has already visited your institution website is more likely to respond positively to a direct email campaign, while a young candidate who has not yet heard of your university/centre/company is more responsive to meeting representatives at a recruitment fair.