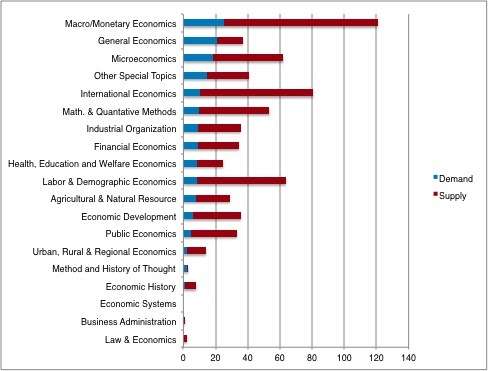 Supply and Demand for New Ph.D.s in Economics
Source: Survey of the labor market for new PH.D. hires in economics 2011 – 12, Sam M. Walton College of Business, University of Arkansas:
179 of the institutions responding to the current survey are expecting to hire 172 new Ph.D.s for the 2011-12 academic year. The greatest demand is for the field of macro/monetary economics at 14.8 percent, followed by general economics at 12.2 percent, and microeconomics at 10.8 percent …

Ninety-one of the Ph.D. degree granting institutions responding to the survey report that they will have a total of 520 new Ph.D.s seeking employment for the 2011-12 academic year. About 8.5 percent of the job seekers are holdovers from the 2010-11 market…

Job seekers with specialties in macro/monetary economics (18.3 percent) constitute the greatest share of the supply followed by international economic (13.5 percent) and labor and demographic economics (10.6 percent).
Also Interesting

Decisions, Decisions, Decisions

Pros and Cons of Being A College Professor

If you're thinking about which direction to take your research career, one possibility is the professor route, teaching and researching in a university context. This is one of the most desirable jobs among young academics, and something that people often strive for. But what are the pros and cons of working as a college professor?

Ranking, Study Advice, Career Advice, Blog Post

The Top Economics Blogs

Reading economics blogs can be an easy way to get your fill of knowledge and, in many cases, they're more palatable compared with academic journals, which can be dense and gruelling. The blogs we've listed - in no particular order - are the ones we here at INOMICS turn to when we're looking for interesting, informative, and occasionally offbeat articles on a wide range of economic topics. With much of the outside world still off-limits, they also provide an excellent and productive means of passing the time. So go on, dive in.

Top Economics Journals

Getting published. It's the bane of many economists' lives, and it's never been so important. Jobs, tenure, not to mention reputation, all heavily rely on getting published – often regularly. Unsurprisingly, given its significance, there's much to consider when approaching journals. Where your work is published can have a huge effect on how it's perceived, how many people it reaches, and what kind of profile engages with it. Alarm bells need not ring, though, this article will walk you through the process, ensuring your work finds its rightful home.