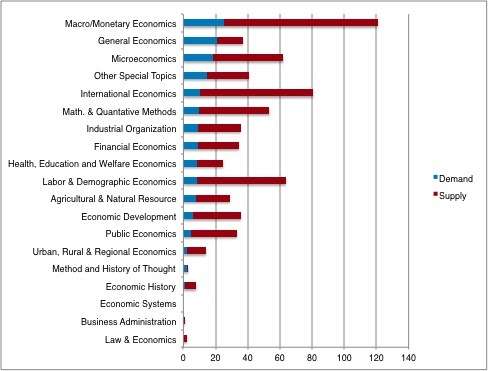 Supply and Demand for New Ph.D.s in Economics
Source: Survey of the labor market for new PH.D. hires in economics 2011 – 12, Sam M. Walton College of Business, University of Arkansas:
179 of the institutions responding to the current survey are expecting to hire 172 new Ph.D.s for the 2011-12 academic year. The greatest demand is for the field of macro/monetary economics at 14.8 percent, followed by general economics at 12.2 percent, and microeconomics at 10.8 percent …

Ninety-one of the Ph.D. degree granting institutions responding to the survey report that they will have a total of 520 new Ph.D.s seeking employment for the 2011-12 academic year. About 8.5 percent of the job seekers are holdovers from the 2010-11 market…

Job seekers with specialties in macro/monetary economics (18.3 percent) constitute the greatest share of the supply followed by international economic (13.5 percent) and labor and demographic economics (10.6 percent).
Also Interesting

A Post-PhD Career in Research: Jack of all Trades, Master of Some

The importance of writing as communication It is indeed true that researchers like us (post-docs, research fellows, senior researchers, and so on) working in academia or in public/private/non-profit institutes spend a lot of time at their desks: writing articles, among other things. We maybe Doctors of Philosophy, but in reality, we are Masters in Writing and a few other things. This is because the demands of a researcher's role requires us to be jacks of a lot of trades and masters in some.

8 Qualities Which Will Get You Through Tough Times In Your PhD

1. Creative Thinking When things go wrong during your PhD program – which they surely will! – then you need to find creative solutions. If your initial analysis found no meaningful results for your primary question, did it reveal other interesting insights? If your pilot experiment didn't work out, can you salvage the data or design a better experiment? Perhaps you couldn't find the data you were hoping for – would finding a suitable instrumental variable help fill the gap?

Optimise your Recruitment Strategy for Economics PhD Positions

Candidates can find more information in our guide on how to successfully apply to a PhD in Economics. For institutions aiming to find the best international talent for their PhD positions, the most important question is how to reach the right audience, primarily current master's students. You don't want to waste all your budget chasing after the wrong candidates.