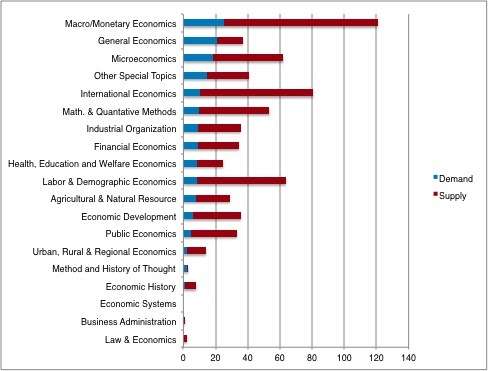 Supply and Demand for New Ph.D.s in Economics
Read a summary or generate practice questions based on this article with the new INOMICS AI toolhere.
Source: Survey of the labor market for new PH.D. hires in economics 2011 – 12, Sam M. Walton College of Business, University of Arkansas:
179 of the institutions responding to the current survey are expecting to hire 172 new Ph.D.s for the 2011-12 academic year. The greatest demand is for the field of macro/monetary economics at 14.8 percent, followed by general economics at 12.2 percent, and microeconomics at 10.8 percent …

Ninety-one of the Ph.D. degree granting institutions responding to the survey report that they will have a total of 520 new Ph.D.s seeking employment for the 2011-12 academic year. About 8.5 percent of the job seekers are holdovers from the 2010-11 market…

Job seekers with specialties in macro/monetary economics (18.3 percent) constitute the greatest share of the supply followed by international economic (13.5 percent) and labor and demographic economics (10.6 percent).
Also Interesting

How To Find The Right Exchange Program

Exchange programs allow students to study at a different institution as part of their degree. Typically, students will use this opportunity to study abroad at a foreign partner of their home institution, though exchange programs can sometimes take place in the same country. Regardless, these programs are a fantastic way for students to broaden their horizons, take specific courses at another institution, and study abroad without committing to living multiple years in another country.

Studying in Germany: How to apply for a student visa

So you want to study abroad in Germany, the largest economy in Europe. It's a great country filled with many high-quality, internationally competitive universities. Plus, lovers of pretzels and sausages will never find a better place to be. Of course, if you're an international student, you'll probably need to get a visa before you can go.

Working in Germany: How to apply for a work visa

So, you studied abroad, got your economics degree in Germany, and you're ready to look for a job in the country. First of all, congratulations! You're on your way to becoming a full-fledged economist.