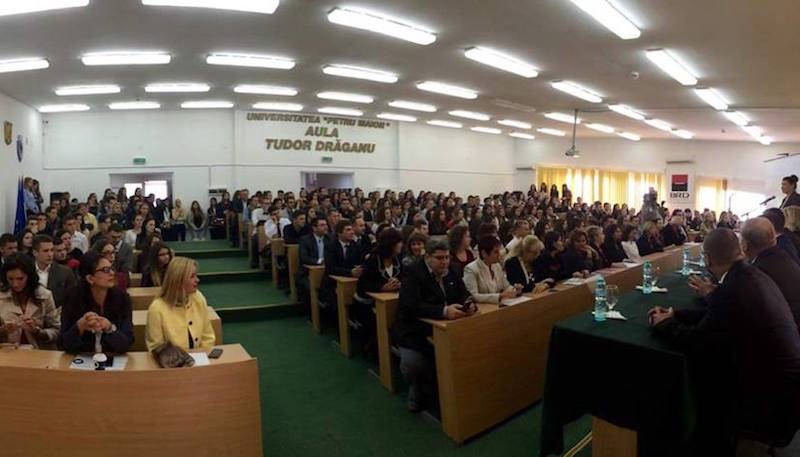 Conference Testimonials - Mihaela Liliana Gondor from Romania
INOMICS supports students and researchers in attending conferences with a €500 grant
Hear their perspectives on attending conferences and what advice they have to give other academics
---
Every year INOMICS runs a contest which offers a €500 grant to students and researchers who want to participate in the academic conference of their choice. Attending conferences is a key way for young researchers to grow their careers, learn from others in the field and present their own work to an academic audience, so that the community can benefit from hearing their perspectives. INOMICS wants to support students and researchers by making available this grant to cover registration, travel or accommodation costs of attending their dream conference.
---

---
The participants last year included a large number of exceptional students and researchers who have attending conferences in a variety of different fields. The contest was very positively received and we are therefore running it again for the year 2017. To take part in the contest, click here.
Now we'd like to introduce you to some of last year's contest participants and hear from them about their conference experience.
---
Mihaela Liliana Gondor, from Romania
How has INOMICS contributed to your career development?
INOMICS gave me a lot of important, personalized, updated, qualitative and real-time information to find opportunities to develop my career, particularly to find good conferences, summer schools, new courses, new partners for my research, new funding opportunities and to share my knowledge with others. I also appreciate the information about new jobs positions in my field of interest. I hope I will not need to change my job, but if I do, INOMICS will represent a chance for me. Now, INOMICS has given me the opportunity to earn a €500 conference grant. Money represents a very important issue for a researcher's career, particularly for participating in good conferences, which are very expensive. It is very important, as a researcher, to interact with innovative ideas, to make new connections, and to start new projects. INOMICS represents the key to boosting researchers' career development.
Tell us about your ideal conference experience.
I have participated in many good conferences. I can say for sure that nothing compares to a good conference! There are a lot of people sharing the same passion, the same goals: there are a lot of new ideas, lessons to learn, friends to meet or new ones to make. A good conference is full of positive energy, so I leave a conference feeling re-energized, bursting with fresh ideas and wanting to work harder and harder in order to be better and better in my field of interest.
What one piece of advice would you give to your peers to advance their academic careers?
Find interesting conferences, interact with innovative research, make new connections within and outside your country, within and outside of your particular discipline, build your own research network, start new projects. Work, innovate, collaborate... and do it hard! Don't forget that working in the field you like means that you'll also have a lot of fun.
---
Thanks to Mihaela Liliana for sharing these insights with us! Don't forget to check out our page for more information on the 2017 conference grant competition.
Also Interesting

Into the Economist's Mind

The INOMICS Questionnaire: Fratzscher vs Miguel

Marcel Fratzscher: What is your favorite place on earth? Edward Miguel: It may be a little cliche, but my favorite physical location is the Big Island of Hawaii, on the Kona side. It's where my family (my wife and two kids) and I have traveled regularly over the past decade or so for our family holidays, so it's a place that holds many of our favorite memories and warm feelings. It is also a stunning landscape -- with mountains, lava and black volcanic rock all set against the Pacific. I dream about it often!

The INOMICS Awards 2022

Based on aggregating the total interest in offers publicized on INOMICS during the previous year (see methodology) winners were chosen across 7 different categories. In each category, we identify the Top 3 institutions as well as those in the Top 20, listed in no particular order.

How the Crisis is Opening Opportunities for the Profession

COVID-19 and the Economists' Redemption

In summary, your majesty, the failure to foresee the timing, extent and severity of the crisis and to head it off, while it had many causes, was principally a failure of the collective imagination of many bright people, both in this country and internationally, to understand the risks to the system as a whole.