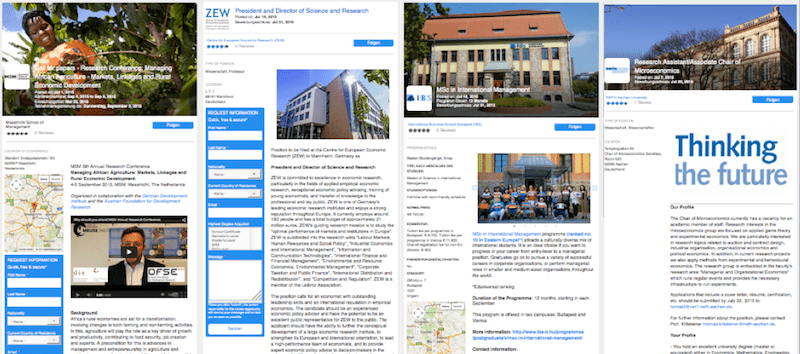 Do visuals work? Or: How to make your announcements more attractive.
Have you advertised an announcement recently and wondered how to make it even more attractive for potential candidates? While a detailed description, clear application requirements and interesting offer form the core of an announcement, it is a clever use of visuals that will make your advertisement really stand out.
They say that a picture speaks a thousand words, and this is especially true for online ads. Making your announcement stand out is of great importance in the modern world of heavy information streams. There are several ways of "personalizing" your announcement, either by adding a catchy title or by adding a visual description.
INOMICS offers different options for different announcement levels. Here is a short summary to help you choose:
Logo. Simple yet powerful. On the one hand it is a powerful branding tool, but more importantly it will do the job of grabbing the attention of a potential applicant looking through a long list of search results.
- Available in announcements from Standard level
- Available in the email alert for announcements from Featured level
Header image. First impressions count - and the header image is the first thing people see in the search results and at the very top of the announcement page.
- Available in announcements from Featured level
Announcement images. Adds a personalized note to the ad, especially when several are displayed together in a carousel. This can be your team or students, campus facilities or the building, your slogan or motto. A good selection of images communicates the spirit of the event, program or a potential new workplace.
- One image is available for Standard announcements
- Unlimited images are available for announcements from Featured level
Of course, this doesn't mean that a simple text advert cannot also be effective – using visuals just makes it easier and increases your chances of reaching the right candidates. Above you can see some examples of well presented personalized ads.
Try it for yourself next time and see the difference!
We are offering a free Promotion Boost for bookings made until 15th August 2015, which means you could get a free Header Image for all of your Standard announcements, or extra inclusions with a logo for your Featured Announcement in our email alert. Use this special offer to pre-book for campaigns later in 2015 and 2016, and benefit from this boost for future job openings (or programs, courses, scholarships, conferences and workshops offered by your institution).
If you want to know more about ways to make your ad more visible and attractive, don't hesitate to contact us. Your INOMICS Team will be happy to help you!
Also Interesting

A Post-PhD Career in Research: Jack of all Trades, Master of Some

The importance of writing as communication It is indeed true that researchers like us (post-docs, research fellows, senior researchers, and so on) working in academia or in public/private/non-profit institutes spend a lot of time at their desks: writing articles, among other things. We maybe Doctors of Philosophy, but in reality, we are Masters in Writing and a few other things. This is because the demands of a researcher's role requires us to be jacks of a lot of trades and masters in some.

Should you prolong your predoc life?

If you go through curricula vitae of recent PhD graduates, you may find it's not uncommon to see that a PhD owns two master's degrees. As lots of MA/MSc in Economics programs are one-year programs, some students will pursue an MRes or MPhil in Economics afterwards. Others may opt for a degree in applied mathematics, statistics or another field with an intention to strengthen their quantitative and/or coding skills (summer school programs are another option to do this).

Succeeding in the European Job Market for Economists

These institutions include European universities and research institutes in academia, but also many consulting firms, tech companies, think tanks, governments, and government agencies (such as the World Bank, International Monetary Fund and central banks).