Deadline for paper submissions
Deadline for participant registration
The second edition of the Gender and Economics workshop will be held at the premises of the University of Luxembourg, Campus Kirchberg, Luxembourg city, on the 29-30 June 2023.
This workshop is organized by the department of Economics and Management and aims at presenting cutting- edge research papers on any fields in economics with a focus on Gender.
CONFIRMED KEYNOTE SPEAKERS
We have the great honor to welcome the following keynote speakers:
-Conchita D'Ambrosio (University of Luxembourg)
-Enrico Spolaore (Tufts University)
-Hillel Rapoport (Paris School of Economics)
SUBMISSION OF PAPERS
We invite papers (either full papers or extended abstracts) in all field of economics and particularly, culture, migration, labor market, political economy, public economics, theoretical or empirical, that treat gender as one of the main topics.
SUBMISSION OF PAPERS FOR POSTER SESSIONS
To encourage young researchers to exchange ideas, projects and perspectives with the above speakers and other researchers about the latest developments of the scientific knowledge in the study of gender, culture, and economics, we will organize two poster sessions in the workshop.
We invite submissions (either full papers or extended abstracts) from PhD students for the poster sessions.
Submissions should be sent to dem@uni.lu before March 31, 2023.
Please write Submission to Gender and Economics as subject of the email. Decisions will be communicated on April 20, 2023.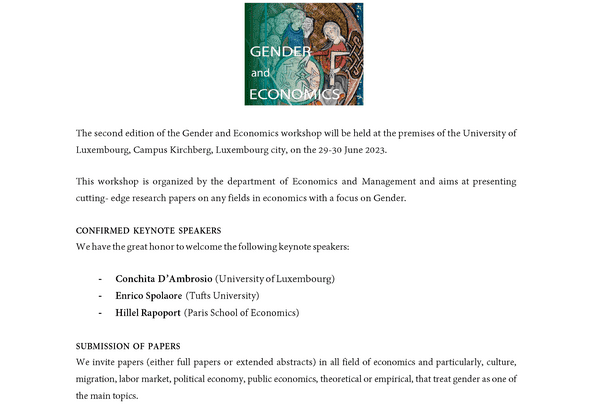 Deadline for paper submissions
Deadline for participant registration