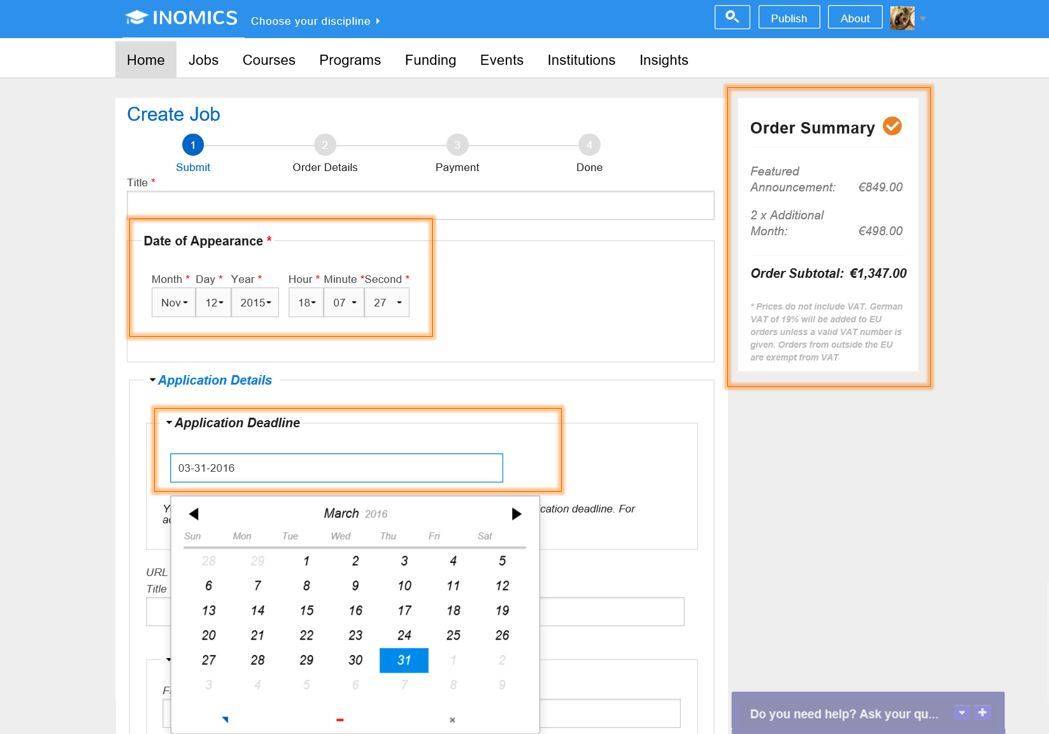 Inside INOMICS - More control for customers, with flexible online duration for Announcements
This month, INOMICS has launched a new feature giving customers more freedom to choose how long their Announcements should be promoted online. Now when you post, you can easily choose any duration for promotion from the date of posting up to your deadline.
As before, our advertised rates already include any online duration up to three months (six months for conferences), so if you post within this window of time before your deadline, your Announcement will be promoted online until the end for no extra cost.
For those looking for longer promotion windows, the total cost of your Announcement will now be calculated according to the regular price, plus a special, discounted monthly rate for each additional month started. In addition to the new feature, we have also introduced a new cost preview, giving you full price transparency and allowing you to see the total price for your Announcement at every stage of the posting process.
What is more, for every additional quarter started, we will repost your Announcement once for free, circulating it again around our network and giving it a boost in our website listings as if it were posted again as new.
We hope you enjoy the new feature and the extra control and visibility it provides for your offers on INOMICS. As always, if you have any questions about the new feature, please do not hesitate to contact our team at info@inomics.com.
Also Interesting

Succeeding in the European Job Market for Economists

These institutions include European universities and research institutes in academia, but also many consulting firms, tech companies, think tanks, governments, and government agencies (such as the World Bank, International Monetary Fund and central banks).

Optimise your Recruitment Strategy for Economics PhD Positions

Candidates can find more information in our guide on how to successfully apply to a PhD in Economics. For institutions aiming to find the best international talent for their PhD positions, the most important question is how to reach the right audience, primarily current master's students. You don't want to waste all your budget chasing after the wrong candidates.

The Top Free Online Econometrics Courses

The courses listed here don't require enrollment in an institution, and are all free of charge for at least a limited time. Many of the Coursera courses allow free enrollment, but may require a fee after a certain amount of time has passed. So, no matter where you are (in your home) - at your kitchen table, armchair, or even in bed - you can have econometrics taught to you by some of the top professors, hailing from some of the world's leading universities.