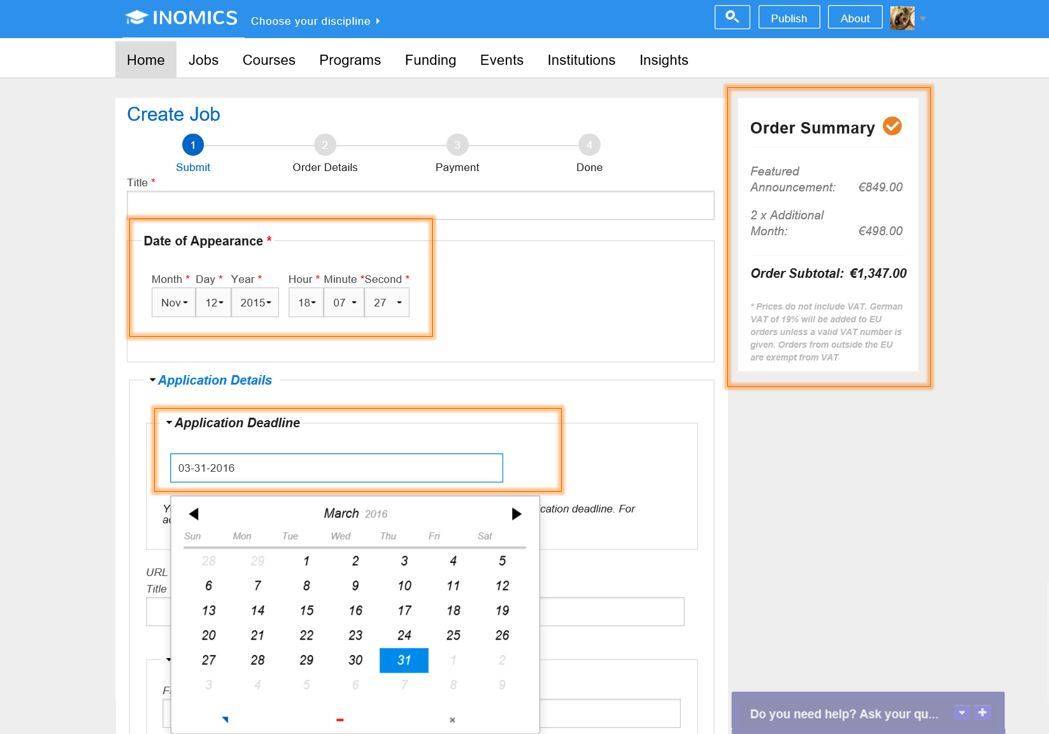 Inside INOMICS - More control for customers, with flexible online duration for Announcements
This month, INOMICS has launched a new feature giving customers more freedom to choose how long their Announcements should be promoted online. Now when you post, you can easily choose any duration for promotion from the date of posting up to your deadline.
As before, our advertised rates already include any online duration up to three months (six months for conferences), so if you post within this window of time before your deadline, your Announcement will be promoted online until the end for no extra cost.
For those looking for longer promotion windows, the total cost of your Announcement will now be calculated according to the regular price, plus a special, discounted monthly rate for each additional month started. In addition to the new feature, we have also introduced a new cost preview, giving you full price transparency and allowing you to see the total price for your Announcement at every stage of the posting process.
What is more, for every additional quarter started, we will repost your Announcement once for free, circulating it again around our network and giving it a boost in our website listings as if it were posted again as new.
We hope you enjoy the new feature and the extra control and visibility it provides for your offers on INOMICS. As always, if you have any questions about the new feature, please do not hesitate to contact our team at info@inomics.com.
Also Interesting

Sudden Delivery Disruptions Due to Pandemic Will Not Go Away Any Time Soon

A couple of steps short of humanitarian disaster and incalculable damage to the environment At the end of the year around Christmas, up to 10,000 trucks headed from Dover to Calais via the Eurotunnel. When France suddenly closed its border with the UK, all trucks and their drivers that were still in Britain got stranded in the ports without any information about when they would be able to continue their journeys, and without food or access to essential hygiene facilities.

Why you should be using a multi-channel marketing approach

Multi-channel marketing campaigns allow institutions to increase conversion rates by interacting with potential candidates (students, professors and researchers) at different stages of their decision process, using the best channel for that stage. For example, a candidate who has already visited your institution website is more likely to respond positively to a direct email campaign, while a young candidate who has not yet heard of your university/centre/company is more responsive to meeting representatives at a recruitment fair.

Home Office and Uncertainty

COVID-19: The Economists' Experience

That the world of work has radically changed we know, we see it before our eyes: kitchens have replaced offices; pyjamas, suits; and housemates often now fill the space previously occupied by colleagues. But how have these changes - and others - been felt by economists around the world? Through a textual analysis undertaken in the INOMICS Salary Survey, we answer that question and, in doing so, paint an anecdotal picture of economists' COVID experience.