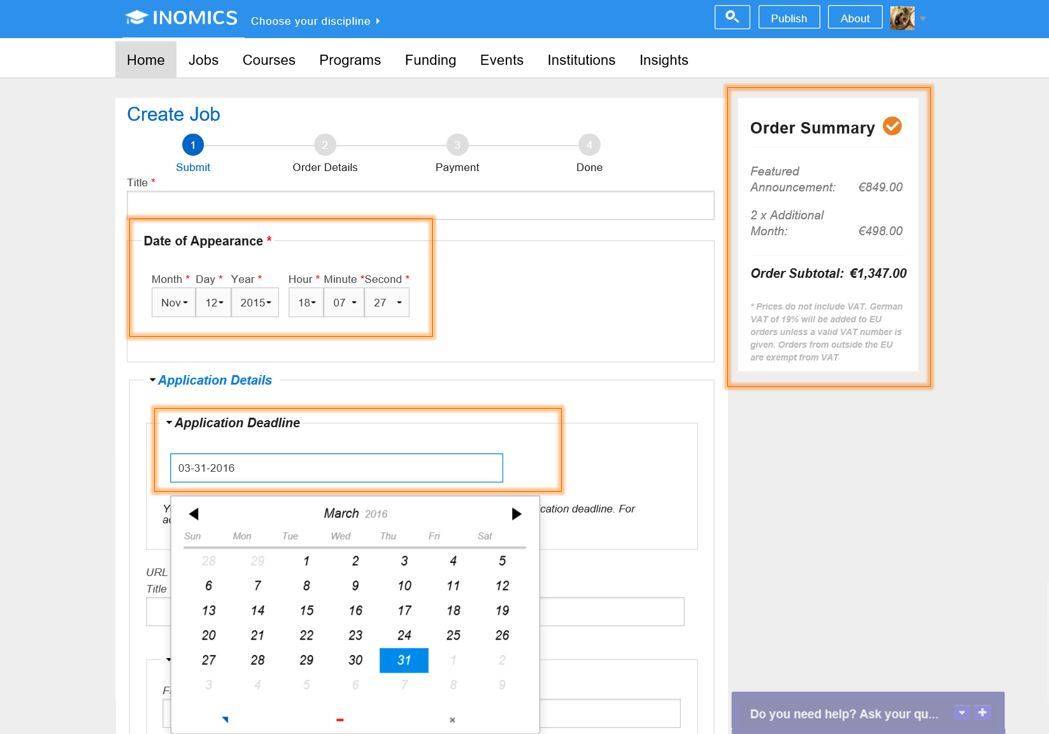 Inside INOMICS - More control for customers, with flexible online duration for Announcements
Read a summary or generate practice questions based on this article with the new INOMICS AI toolhere.
This month, INOMICS has launched a new feature giving customers more freedom to choose how long their Announcements should be promoted online. Now when you post, you can easily choose any duration for promotion from the date of posting up to your deadline.
As before, our advertised rates already include any online duration up to three months (six months for conferences), so if you post within this window of time before your deadline, your Announcement will be promoted online until the end for no extra cost.
For those looking for longer promotion windows, the total cost of your Announcement will now be calculated according to the regular price, plus a special, discounted monthly rate for each additional month started. In addition to the new feature, we have also introduced a new cost preview, giving you full price transparency and allowing you to see the total price for your Announcement at every stage of the posting process.
What is more, for every additional quarter started, we will repost your Announcement once for free, circulating it again around our network and giving it a boost in our website listings as if it were posted again as new.
We hope you enjoy the new feature and the extra control and visibility it provides for your offers on INOMICS. As always, if you have any questions about the new feature, please do not hesitate to contact our team at info@inomics.com.
Also Interesting

The GRE is changing: ETS to streamline the test in September 2023

The Graduate Record Examinations, more commonly known as the GRE, is one of the most important standardized tests in the world for admission to post-Baccalaureate programs. It's very often required by universities when considering admission into their Master's or even PhD programs.

Which Concentration Should You Choose For Your Master's Degree in Economics?

If you're planning to study economics at a Master's level, then you may have the opportunity to pursue a concentration, sometimes also referred to as a major. While rarer, some PhD programs may also offer concentrations, though many are already specialized degrees (or require you to have your own research agenda).

How To Find The Right Exchange Program

Exchange programs allow students to study at a different institution as part of their degree. Typically, students will use this opportunity to study abroad at a foreign partner of their home institution, though exchange programs can sometimes take place in the same country. Regardless, these programs are a fantastic way for students to broaden their horizons, take specific courses at another institution, and study abroad without committing to living multiple years in another country.