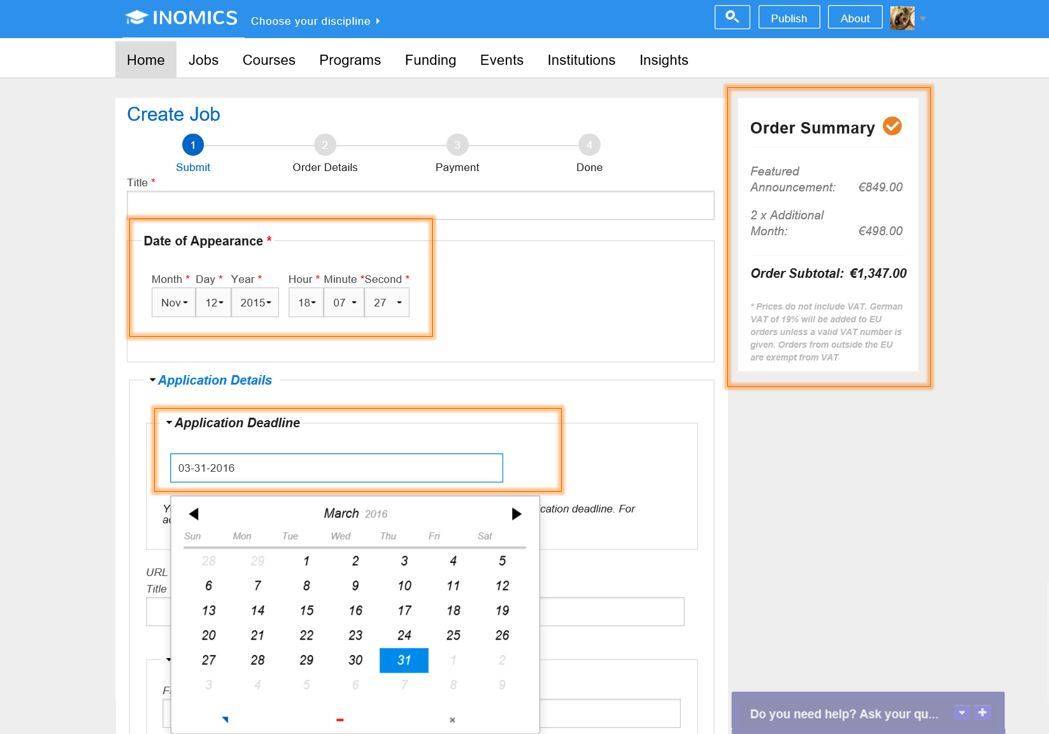 Inside INOMICS - More control for customers, with flexible online duration for Announcements
This month, INOMICS has launched a new feature giving customers more freedom to choose how long their Announcements should be promoted online. Now when you post, you can easily choose any duration for promotion from the date of posting up to your deadline.
As before, our advertised rates already include any online duration up to three months (six months for conferences), so if you post within this window of time before your deadline, your Announcement will be promoted online until the end for no extra cost.
For those looking for longer promotion windows, the total cost of your Announcement will now be calculated according to the regular price, plus a special, discounted monthly rate for each additional month started. In addition to the new feature, we have also introduced a new cost preview, giving you full price transparency and allowing you to see the total price for your Announcement at every stage of the posting process.
What is more, for every additional quarter started, we will repost your Announcement once for free, circulating it again around our network and giving it a boost in our website listings as if it were posted again as new.
We hope you enjoy the new feature and the extra control and visibility it provides for your offers on INOMICS. As always, if you have any questions about the new feature, please do not hesitate to contact our team at info@inomics.com.
Also Interesting

How the Coronavirus is Affecting Economics

15:00 8 June 2020 As some countries begin to loosen their lockdowns to varying degrees of success, many universities are still playing it on the safe side. The University of Surey, for example, has moved its CIMS summer school course online. This will be from the 7th to 12th of September 2020.

The Lives and Livelihoods Fund

Four years ago, the world adopted an ambitious set of Sustainable Development Goals (SDGs) designed 'to end poverty, protect the planet and ensure that all people enjoy peace and prosperity by 2030'. Despite rising life expectancy and the eradication of many endemic diseases, more than 400 million people in the member states of the Islamic Development Bank (IsDB) still live in absolute poverty, subsisting on less than US$1.90 per day. It is, perhaps, these countries that face the greatest challenges in fulfilling the SDGs.

Career Advice, Study Advice

Top YouTube Channels to Learn Econometrics and Economics

Despite the easing of Corona-induced restrictions in certain places around the world, many universities and centers of learning remain shut, and will likely stay so for some time. For the foreseeable future then online learning will fill the void and become the default means of study. Yes, these are strange times. If you aren't already incredibly familiar with Zoom/Whereby/Skype we advise you to download them all now!